Carrier Heat & Air Conditioning Systems
Looking for a new or replacement central heat and air conditioning system? We've got the HVAC system to keep you comfortable! From the super-efficient Infinity® to the economical Comfort Series.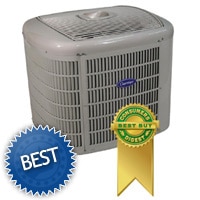 Infinity® Series Heat Pump With Greenspeed™ Intelligence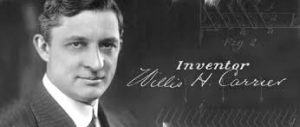 In 1902, a man named Willis Carrier changed the world when he invented modern air conditioning. Over 100 years later, the company that he founded still bears his name and is still a world leader in the HVAC industry. Many historic buildings trust Carrier systems to maintain their air quality, temperature, and humidity. Two such historic buildings are the Sistine Chapel and George Washington's Mount Vernon.  Carrier is a giant of the HVAC industry with a sterling reputation for providing reliable, energy-efficient comfort.
Carrier systems are particularly known for their reliability. In 2014, Consumer Reports reviewed the nine most popular HVAC brands. They collected responses from 55,000 readers and hundreds of HVAC contractors. Consumer Reports then ranked top HVAC brands based on their frequency of repair. Carrier heat pumps and gas furnaces were both rated as highly reliable. They missed the top spot by only one percentage point. In addition, several Carrier models have been awarded the Consumer's Digest Best Buy Award.
Carrier offers a wide range of products to suit the needs of every homeowner. Their basic Comfort series offers efficiency and reliability at an affordable price. Their Performance series steps it up a notch with more advanced features.  One such feature is the two-stage scroll compressor that improves both efficiency and comfort.
Technology to Save Money and Energy
Even more technological innovation can be found in their Infinity series. The Infinity system monitors your home's humidity as well as the indoor and outdoor temperature.   It does this in order to improve not just your comfort but also air quality and air flow. And it can even save you money on your monthly energy bills thanks to its extra high-efficiency.
Carrier's top-of-the-line systems offer Greenspeed Intelligence.  This allows them to precisely control their speed for longer, slower runs that maximize comfort and efficiency while minimizing noise. The longer run-times also improve the effectiveness of air quality upgrades like purifiers and humidifiers.
Ultimately, Carrier continues to lead the industry by providing reliable, efficient comfort.  It has ever since Willis Carrier invented the first modern air conditioner over 100 years ago.