The next time that you have a service or repair done on your HVAC unit, or have a new unit installed, consider adding one or more of these great items! We offer these specialized products below to help make your life easier! Most of these we can do on the spot during your service, or call us and we can do same day is most cases. Please click on the picture to be taken to our contact page or click the "Chat with Us" box in the lower corner, so that we may help you. 
 Ceiling Saver – Wet Switch Flood Detector
Water through the ceiling is the one of the MOST COMMON problems we see. If you have any components in your attic, you need a switch that shuts your system off to prevent damage when excess water is detected. Add one Wet Switch® per system in your house. 
 Carbon Monoxide Detector by Carrier
Carbon monoxide gas is colorless, tasteless, odorless, and highly toxic! If you have gas systems, you need to monitor gas levels in your home.  This easy and convenient detector plugs into a regular wall outlet (no mounting on the wall), and has an easy-to-read digital display.  When dangerous levels of CO are present, a loud, audible alarm alerts you automatically.
You probably have a surge protector on your home computer or big screen TV-but what about your more valuable HVAC equipment? Power surges are the silent killer for the home appliances and HVAC equipment.
We offer 3 levels of surge protection:
 – Motor-only
– Inside Components protector
– Compressor
Honeywell Glowfly Universal Hot Surface Igniter
Most factory-installed hot surface igniters for gas systems are very fragile. Replacing a broken one is a very common repair during cold weather.  If you replace it once, you might want to upgrade to a far more durable version, less prone to breakage.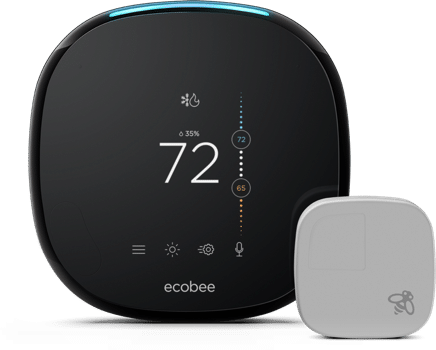 This is a system that we love here at Conditioned Air Solutions. This is a Wi-Fi Thermostat with remote sensors. It also has built in Amazon Alexa Voice Service. Most places have the HVAC controls in a hallway or in one room of the house. This keeps most rooms at different temperatures. The Ecobee is Energy Star Certified and fixes this. There are remote sensors that you place in different rooms to help maintain the temperature in your home or office. Having the temperature regulated throughout your space can save you money on your utility bill. You can even adjust the temperature from your phone. Learn more about the Ecobee here.
Cold plasma is a great solution for removing pet odors or strong cooking smells. We've seen amazing results with this product. It works by producing cold plasma and circulating it through the home.  This product installs inside the air handler, and is virtually maintenance free.
Germicidal UV Lights
You've seen UV lights in the hospital setting. Ultraviolet light inhibits bacteria and mold growth, plus kills germs on your indoor coil.  Highly recommended if organic growth in your system is a serious concern.  We offer several bulb configurations that your technician will customize based on the size and type of system you have.  We install both Carrier and Honeywell brands.  Note: bulb must be replaced about every 18 months.
 Honeywell UV Air Treatment with Odor Absorption
This product works in your home's ductwork to remove airborne particles such as pollen and dust, as well as odors from food and pets.  The ultraviolet light addresses the surface mold on your air conditioning coils.
 Aprilaire Electronic Air Cleaner
One of the best cleaners available, the Aprilaire Provides optimal allergy and asthma relief. This cleaner, electronically charges particles and permanently traps them better than any other air cleaner (according to a third party research, available on request). *annual filter change
Carrier Performance Air Purifier
A good budgetary option, the Performance air purifier captures 75% of particles and kills up to 96% of germs, pollens, and molds.  It is proven effective against 3 common pathogens.  The Performance has a narrow design that allows more flexibility for installation in tight spaces. *bi-annual filter change needed.
Carrier Infinity Air Purifier
The Infinity air purifier is our top-of-the-line air cleaner.  It captures 95% of particles and kills 99% of germs, pollen and molds. It has proven effective against 13 common pathogens.  The ultimate tool to improve indoor air quality. *annual filter change needed
 Dehumidifier
Extreme humidity can foster organic growth in or around your HVAC and cause ductwork to sweat.  We typically see two situations that would benefit from the dehumidifier: in crawl spaces under houses and whole-house applications.  We recommend Aprilaire products for dehumidification.  Optimal installation will require a detailed home assessment from our Comfort Consultant.
Maintaining a constant 50% or more humidity in your home during heating season will provide several health benefits, plus help preserve delicate wood furnishings in your home.  The Aprilaire humidifier is a self contained device that manufactures and injects steam into your duct system while preventing water build-up in the duct. Optimal installation will require a detailed home assessment from our Comfort Consultant.
See Through Smart Trap
YOU can see the problem before it happens! The clear u-bend allows you to see the blockage and the access ports making it easy to clean it out. A handy addition to most package units with a p-trap.
Vent Registers
Replace your old, rusted, beat up vent registers with a new set.  We make it easy and fast!  
High Velocity Return Air Grill
For your system to operate at peak performance, it needs to circulate air efficiently. The return air grill can seriously cripple the amount of air the system can pull.  In certain situations, an upgrade to a sharp looking, aerodynamic grill can be the best solution.  This is a commercial grade, sturdy grill that will look great for years.
**All Products include a 1 year warranty on parts and workmanship**