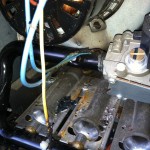 Make sure your heater is ready for winter!
First time customer called because his heat wouldn't come on. When our technician went out to check the unit, he found that a bug had built a cocoon in front of the gas blowers, and the flame was diverted.  This diverted flame melted part of an aluminum motor housing and several wires, and created a mess inside the unit.
All this was caused by a small cocoon built in the wrong place and could have been prevented with a maintenance plan.
That's why it's very important for you to test your heater as soon as you get a little cold weather so you'll be ready for winter. Our president, Paul Snowden, talks about this and what to expect when you turn your heater on for the first time this season in a WAFF TV feature story.