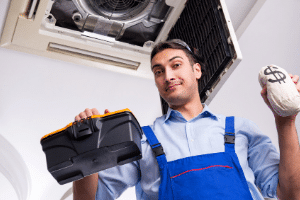 Maintenance Contracts for HVAC: Are They a Good Investment?

What are Service or Maintenance Contracts?
Heating, Ventilation, and Air Conditioning (HVAC) providers offer special, add-on agreements where for a set charge, you are guaranteed ongoing services for your system. An HVAC maintenance plan is outside any manufacturer's warranty that comes with the purchase of a new system.
Basic service and maintenance contracts include a pre-season or seasonal checkup of your heating and cooling system before summer, and a second checkup before cold weather sets back in your area. Some service or maintenance contracts include parts and service for any repairs needed during those checkups, and some include emergency and after hour service.
Another feature in some service or maintenance contracts includes priority treatment. This can save you the frustration of being too cold, or too hot, and waiting for service.
Why is a Maintenance Plan Important?
Signing up for a planned service and maintenance agreement is a must if you have an extended HVAC warranty. The truth is that warranties and maintenance agreements go hand in hand.
Most extended HVAC warranties are only valid if your system is serviced by a certified HVAC contractor. Additionally, scheduled annual preventative maintenance helps you avoid the frustrations of unexpected breakdowns. They also pay for themselves by catching problems early, which helps avoid unnecessary repairs, keeping parts and visits needed to a minimum, and keeping efficiency high so your energy bills remain low. Read the warranty customer expectations carefully to make sure you follow the terms required by the manufacturer. With a basic limited manufacturer's warranty, do not accidentally void it!
Homeowners do not often purchase an HVAC service and maintenance contract because they feel the cost is too high. These contracts can cost between $200-$500 yearly (it really depends on the extent of agreed upon services). If the system is new and still under a manufacturer's warranty, the cost may seem unnecessary but again, make sure that regular maintenance is not a requirement of the manufacturer, to avoid voiding a factory warranty. Most major parts needing replacement should be covered under the manufacturer's warranty, but if it is not routinely serviced…be consumer aware!
When considering a new system purchase, ask what the manufacturers offer in their warranties. This factor alone can help you determine which system to install. Ask lots of questions and ask for written (as in an email) answers or the actual online warranty to review. Compare these side by side if need be but be aware of their similarity's differences. Does the manufacturer only replace parts found to be faulty? Will it cover the service technicians' cost? Are maintenance service contracts a condition to keep you from voiding the manufacturer's warranty? Remember, most manufacturers require routine maintenance as a term of keeping the promised warranty benefits.
What an Excellent Maintenance and Service Partner Plan Does
A regularly scheduled service can reduce system repairs and failures which helps lower utility bills. For Example: The Conditioned Air Solutions Company (CAS) in Huntsville, Alabama has a basic plan that covers every aspect of the system. Their plan will service your heat and air conditioning system twice a year. Maintenance on your heating and air conditioning system is as important as routine dental cleanings. Neglect can lead to serious problems. Routine, scheduled maintenance can keep systems in good, performing shape. They offer:
     

Two yearly scheduled maintenance visits

     

"70 Point" inspection process

     

Once annual chemical cleanse of the outdoor coil

     

drain line cleaning every visit to prevent dirty buildup

     

Check comfort needs and regulate thermostat programs

     

Review integrity of the systems refrigerant pressures 

     

Inspect duct system for damage or leaks

     

Examine the evaporator coil

     

Verify safety and tightness of all electrical wiring

     

Check all the safety switches and pressures

     

Inspect heat exchangers

     

Test electric heat and defrost controls

     

A detailed scorecard on the safety, integrity, and

 performance health of your system
AND They Offer "Priority Service" for Emergency Situations
As a CAS service and maintenance partner, you are the priority of the company and jump to the head of the line when you call for assistance in emergency and routine calls.

They

make your equipment their top priority calling or emailing to schedule tune-ups, so you don't have to worry about remembering one more thing.

Also, a fifteen percent discount is given off the bottom line for all repair work. This does not include a new HVAC system replacement, but you can get five percent off of a

new unit replacement. ALL the technicians are professionally trained, pass background checks and are drug-tested.

100% Satisfaction Guarantee

.

If the service plan partner isn't happy with the maintenance work – for any reason- they will work to make all right, and refund any money necessary.

If the homeowner moves, there are choices about the

maintenance and service plan. It can transfer to the new house, transfer to the new owner of the current house, or the plan holder can cancel the plan.
Avoid Frustration with Regularly Scheduled Maintenance
Twice yearly -seasonal- scheduled preventative maintenance and tune-ups make frustrations of unexpected breakdowns almost completely avoidable. These service and maintenance partner plans   pay for themselves. Qualified, certified technicians catch problems early, helping to avoid unnecessary repairs, allowing the HVAC system to have higher efficiency and, in most cases, lower energy bills.
Consider these scenarios: Would you advise yourself or a friend to go buy a brand-new car off a car lot before checking its performance records and ratings? Would you then drive that new car in a busy town, yet have no insurance on the car? Would you leave the windows down -on purpose- in the rain? Of course not! Would you choose to not buy health or dental insurance because you have not been extremely sick or had a cavity in years? Would you skip the free health screenings and reduced cost gym memberships your employer offers because you feel great most of the time, and you are just too busy to bother with managing your health? Of course not. It's the same when you need a new HVAC system. Will you only buy the cheapest unit a company has to offer? Will you let limbs and leaves fall and accumulate for months on the outdoor unit? Of course not! 
Do yourself a favor and be proactive and make wise investments on the big ticket purchases you make, and for the quality items you own. This includes keeping yourself and your possessions in optimal, performing order.