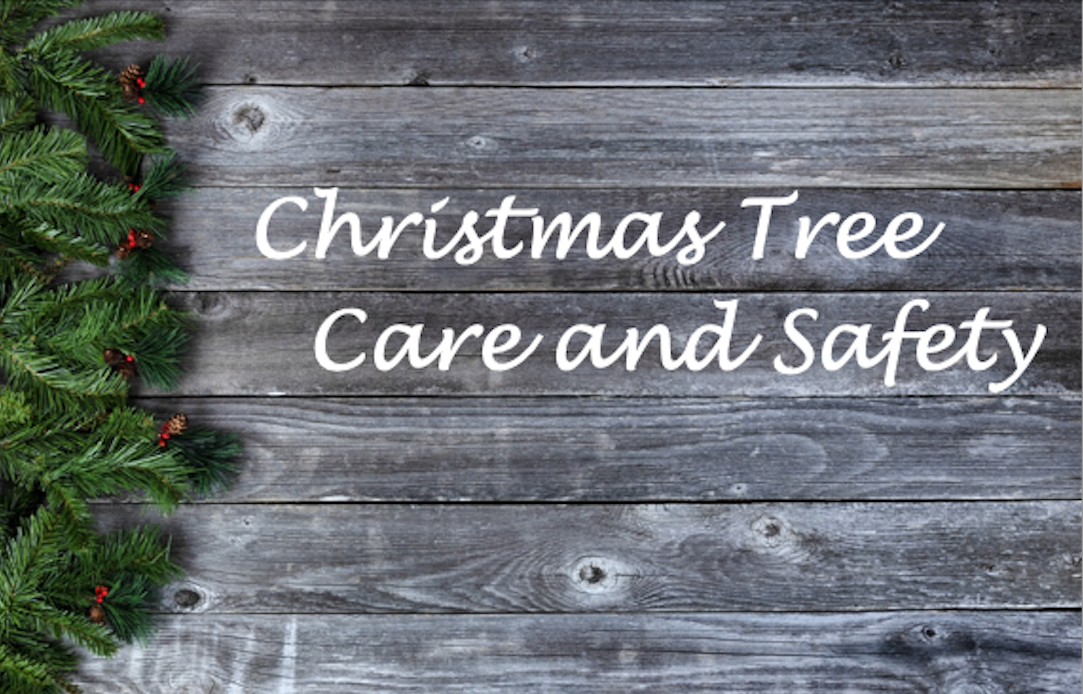 Things to Know about Christmas Tree Care and Safety

For your convenience, you can listen to the article here:
For many families, the Christmas season begins with a trip to the tree lot or farm to pick out their live Christmas tree. Beautiful and fragrant, live trees fill a home with holiday cheer. But if they're not chosen and cared for properly, those lovely trees can become unsightly, messy, and even hazardous. To keep your holiday season merry and bright, here are some things you need to know about Christmas tree care and safety.
Choose your tree carefully
Whether you're cutting the tree yourself or purchasing a pre-cut tree, don't just consider the tree's shape and height. Examine it for signs of insect activity and bird nests, as well as damaged limbs. And if it's a pre-cut tree, check to see whether it's still fresh or already showing signs of drying out, like excessive needles on the ground around it.
The Old Farmer's Almanac recommends running your hand over the needles on a branch and seeing whether they spring back or fall off. Springy needles are fresh and well-hydrated. Needles that fall off are too dry. And if the tree is already too dry at the tree lot, it's going to be way too dry by Christmas!
Shake It Out
Before you bring the tree into your home, shake it thoroughly. Some tree farms and lots have machines that will do this for you. Shaking helps to remove insects as well as mold spores and other debris. If you want to go the extra mile for a cleaner tree, the American Christmas Tree Association suggests that you hose the tree off and then leave it outside until it dries completely.
Take an Inch Off
If your tree was cut more than 12 hours before being put in water, you'll need to cut off about an inch from the bottom of the trunk before you put it in your tree stand. Again, some tree lots will do this for you. This opens up a fresh surface so that the tree can more effectively absorb water. Don't strip off any of the bark or drill holes in the tree. These tactics can actually hurt the tree's ability to drink up water.
Water, Water, Water
The most important step you must take in caring for your live Christmas tree is watering it every day. Rick Bates of the Penn State Department of Horticulture recommends using a tree stand that holds at least a gallon of water. Bates add that you should make sure that the level of water never drops below the base of the tree. If your tree dries out, the needles can begin falling off, creating an unsightly mess. And even worse, the tree can become a major fire hazard.
But Don't Add Anything to the Water
There are plenty of old wives' tales about adding substances like aspirin or sugar to Christmas tree water. But experts agree that this is unnecessary and won't help the tree. Master Arborist R.J. Laverne says that no additives are needed—just plenty of water. Rick Bates agrees, saying that sugar, aspirin, and other "concoctions" don't help the tree stay fresh.
If you have pets or small children in your home, it's also important to remember that they may drink the Christmas tree water! So it's doubly important not to put anything potentially dangerous in it.
Watch Out for Fire Hazards
The National Fire Protection Association reports that approximately 200 house fires begin every year with the Christmas tree catching on fire. And the US Fire Administration states that every year, 2,600 people are injured by fires during the holiday season. Watering your tree every day is extremely important to avoiding this danger. Dry trees catch on fire extremely easily and can become completely engulfed in flames in mere seconds.
It's also important to carefully check the wiring of your Christmas tree lights, since many tree fires are caused by electrical sparks. In addition, make sure your tree is placed well away from heat sources such as fireplaces and space heaters. According to the American Christmas Tree Association, about 25% of tree fires are caused by trees simply being too close to heat sources.
Take it Down Promptly
Although you may be tempted to leave your beautiful tree up for as long as possible, it's best for health and safety to take the tree down right after Christmas. The NFPA says even trees that are watered properly will become dangerously dry after four weeks in the home.
Plus, if there is any mold growing on your tree, the concentration of mold spores in your home's air will get higher and higher over time. Scientists at SUNY Upstate Medical Center put up a Christmas tree in a home and measured the mold spore concentrations in the air. After two weeks, the concentration of mold spores was over FIVE TIMES the normal level. That's enough to cause allergic reactions and increase asthma symptoms.
Conclusion
Ultimately, a live Christmas tree is a wonderful holiday tradition. Take good care of your tree so you can enjoy the holiday cheer and stay safe and healthy too!