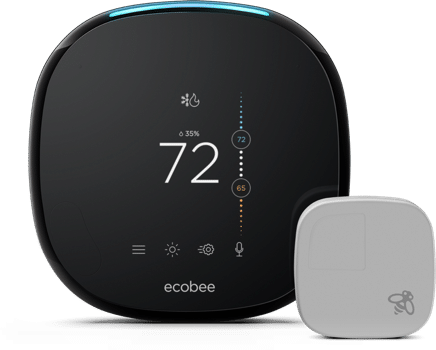 Ecobee Thermostat with Alexa
The Ecobee is a favorite here at Conditioned Air Solutions.  We installed this thermostat here in our office and many of our employees have one at home.
We love how each Ecobee works with inexpensive sensors that you place in different rooms in your house, office, church, or other building that you want to keep a certain temperature. If we are in the middle of a meeting and the room is cold we don't have to get up and interrupt the meeting. All we have to do is pull up the app on our phone, computer or watch to adjust the temperature.
If you are lucky enough to live in a castle, Ecobee can support up to 32 sensors per unit. Most places have the thermostat in a hallway, or a place where the heat and air is very inconsistent due to sunlight, fireplace or other variables.  If you are like us, you do not need the hallway to be the most comfortable place in your house. Ecobee understands this. Placing an Ecobee sensor in your Living Room, bedroom, or bonus room gives you peace of mind that you will be comfortable.
See Also:
Troubleshooting Your Ecobee Thermostat
If you are on vacation and realize that you forgot to set the HVAC to an away temperature, no worries! It is easy to set that from your mobile sources.
Ecobee adjusts itself if it knows you are in the room so that you stay more comfortable. Most people are away from home from 9 – 5 each day, the Ecobee can be set to know that. If you need to stay home one day, Ecobee adjusts to know you are there.  It even knows the difference between you and your pets. Knowing the difference keeps the thermostat in away mode, instead of adjusting to room movement.
With the newest version of the Ecobee smart thermostat, Ecobee4, you get even more, because the Ecobee4 is the first thermostat with Amazon's Alexa virtual assistant built right in! That means voice control for your thermostat as well as having access to many of Alexa's regular functions. Not only can you tell your thermostat to turn the temperature up or down, you can also tell it to order a pizza, play music, or add an item to your shopping list! If you already have an Amazon Echo or Dot, it will be able to communicate with your Ecobee4 thermostat too.
Here in Huntsville we are a preferred Ecobee installer. The savings associated with Ecobee will really surprise you. It is so efficient. Here in Huntsville we are a preferred Ecobee installer.
IMPORTANT UPDATE for Current Ecobee3 and Ecobee4 owners: Check your settings!
We've discovered that the Ecobee4 and a recent Ecobee3 auto-update have a default setting for heat pumps that can seriously increase your utility bills and decrease your system's performance.
The new default setting is "No heat pump with auxiliary heat simultaneously." If left as the default, this setting will cause the compressor to turn off whenever the heat strips come on. That will consume more energy and put out less heat, potentially leading to a much higher utility bill.
For better energy efficiency and comfort, change this setting to "Run heat pump and auxiliary heat simultaneously." This way your auxiliary heat will supplement your heat pump rather than replacing it when the temperatures drop outside.
If you need any help figuring out how to change these settings, please feel free to contact us!
Contact us today to learn more about Ecobee and how it can save you money!