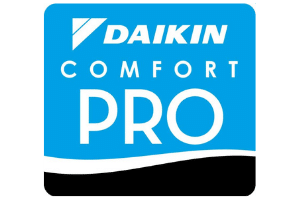 Daikin: Upholding a Promise of Comfort and Quality
Selecting the right heating, ventilation, and air conditioning (HVAC) system can be overwhelming. There are dozens of brands available for household and commercial purposes and it can be hard to know where to start in the search for the right system that will fulfil the needs of your household. When researching brands you will want to consider the quality of the system, price points, availability of service for the system, and how long an HVAC or Air Conditioning (AC) system will last. It is a major decision for any household and should be made with the assistance of a local, licensed HVAC service provider.
Among the brands available to consumers, one stands out for its commitment to quality:  Daikin. Daikin is a world-leader in innovation and manufacture of affordable, quality HVAC and AC units for any size building from individual rooms to large-scale commercial campuses. While you are considering the possible options for your household's unit, here are a few reasons why you should look towards Daikin to meet and exceed your needs. 
Made and Maintained in America
The Daikin company was founded in 1924 in Japan and has now expanded to over 140 countries with 80 manufacturing bases around the world. Daikin has been operating in North America for over 25 years now, hiring over 17,000 employees and opening over 2,000 distribution locations. These jobs are hosted all across America with hiring listings for their ten North American headquarters, all located in the United States of America, with manufacturing, design, and business positions hiring in dozens of cities throughout the nation. 
Daikin also seeks to provide veterans with jobs through the "Hiring Red, White, and You" program in Texas, offering job fairs and recrutement programs with a focus on retired servicemen and servicewomen. According to the Texas Employment Commission, the "Hiring Red, White, and You" has helped provide over 39,000 veterans and their spouses with jobs. 

Extended Warranties
Daikin describes their warranties with a single word:  Outstanding. They stand behind the quality of their heat pump and AC units with an up to 12 years parts warranty. As long as the original owner of the unit registers within 60 days of purchase and remains in the house that the unit is installed at, Daikin will pay for any parts required for repair or necessary for replacement for the following 12 years. There are also warranties available to cover things such as compressor repair and unit replacement, depending on the unit model.  12 Year Parts and Labor Warranty speaks volumes on the quality that Daikin provides. 
Daikin Comfort Pros
All Daikin systems are sold exclusively through authorized dealers. This means that if you are purchasing your Daiken unit through a local, licensed HVAC service provider, they have gone through a rigorous quality check. Daikin Comfort Pros must undergo training to assure that they understand proper installation, maintenance, and repair of Daiken units. They must also remain in good standing with organizations like the Better Business Bureau.  
The Daikin Comfort Promise
Daikin prides themselves not only on their innovations in air conditioning and comfort for any size space, but also for the service they can provide for their customers. The "Daikin Comfort Promise" is their guarantee that customer satisfaction is their top priority. The promise states that, "if within a year of installation, if a customer is not totally happy with their Daikin system, they can contact the installer and ask them to "honor the Daikin Comfort Promise." The Daikin Comfort Pro will return to your home and attempt to resolve whatever issues you have at no cost to you. Paired with the long-lasting warranties that Daikin offers across its available units, it's clear to see that Daikin is prepared to support its customers and make sure that they are satisfied with their purchase and able to enjoy high quality air comfort in their homes. 
The Future of Air Quality Installed Today 
A Daikin system installed in a house can provide years of excellent air quality and comfort. Throughout their history Daikin has led innovation in HVAC and AC systems to offer any size building, be it a single-unit household or a huge corporate headquarters. Some of their innovations include:
VRV Technology:  Variant Refrigerant Volume, or VRV, offers a homeowner the ultimate control over their air comfort. VRV technology allows a house to be separated into unique zones, each with their own control over the comfort and air flow. Individual rooms of a home can have control over their own zone, removing the argument of what temperature the thermostat should be set to, once and for all. This level of control also saves money as energy is not wasted heating and cooling areas of the house that do not require it. 
Ultraviolet Air Purifiers: Available with many Daikin units, ultraviolet air purifiers provide protection from viruses, bacteria, pollen, mites, and mold that might circulate through the air. The removal of outside contaminants is a crucial part of home air comfort and Daikin provides high quality purifiers that work in concert with the overall HVAC system.
Ventilation and Humidity Control: Home air comfort is more than just temperature. Proper ventilation helps draw air into and remove air from a home to keep the air feeling fresh and to prevent lingering odors from remaining in the air. Humidifiers and dehumidifiers adjust the moisture level in the air depending as required for the comfort of the household. 
Conclusion
For over 90 years, Daikin has worked hard to establish itself as a provider of clean, comfortable air for homes all over the world. In the United States of America their workforce focuses on providing long-lasting careers for thousands of employees. Daikin trains and works with the Daikin Comfort Pros who sell, install, and maintain the HVAC and AC units that go into homes with the promise that if anything goes wrong, that Daikin Comfort Pro will do everything within their power to make it right.