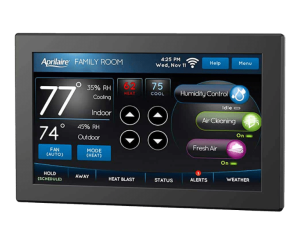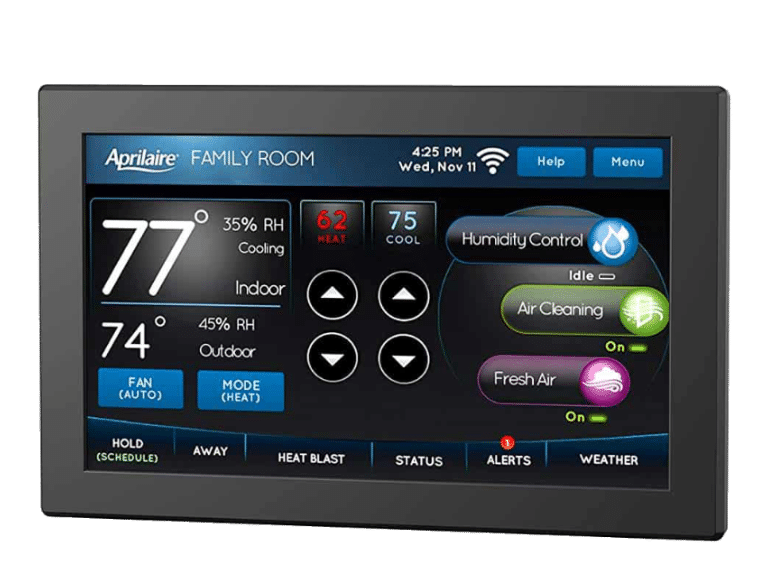 The Aprilaire WiFi Thermostat with Indoor Air Quality Control offers all the great features you'd expect from a smart wifi-enabled thermostat plus the ability to easily integrate your home's Aprilaire air quality control products into one seamless comfort control system.
With its large, rectangular touchscreen, the Aprilaire WiFi Thermostat is easy to read and easy to program. And its mobile app means you can monitor and adjust your system when you're on the go. The Aprilaire WiFi Thermostat is even compatible with Amazon Alexa and Google Assistant.
As with other smart thermostats, you can program the Aprilaire thermostat to help you save money and energy. For instance, during the summer, you can program it to increase the set temperature every day while you're away at work. Or during the winter, you can program it to decrease the set temperature while you're sleeping.
But temperature isn't the only thing that the Aprilaire WiFi Thermostat can control. When paired with Aprilaire indoor air quality products, this thermostat can also monitor and control your home's air quality.
For example, if you have an Aprilaire whole-home dehumidifier, then the Aprilaire thermostat can monitor your home's humidity level and control when the dehumidifier runs. The same thing goes for an Aprilaire mechanical ventilation system. The Aprilaire thermostat can run the ventilator on a set schedule or as needed.
And the Aprilaire thermostat can also help you get the most out of your Aprilaire whole-home air purifier, thanks to the Event-Based Air Cleaning feature. With four different settings available, the Aprilaire thermostat can save energy while making sure your home's air gets cleaned when it needs it most.
For instance, the Event Clean mode runs the air purifier for three hours. This is ideal for situations such as vacuuming that temporarily increase the amount of dust and other particles in your home's air.
Or there's the Allergy mode, where the purifier runs for 24 hours straight before shutting down, perfect for those high pollen days. Additionally, the Aprilaire thermostat offers Constant Clean and Automatic modes for everyday air cleaning.
Ultimately, the Aprilaire WiFi Thermostat with Indoor Air Quality Control offers total control over your home's comfort and air quality. And it can help you save energy too!