Ultra Efficient Air Conditioner Built for Total Home Comfort.
Most people set the temperature to 72° and forget about it.
The result: big energy bills.
Your home's temperature should change with your schedule: down when you leave, up when you're back, down when you sleep, up when you wake up. Nest can make these temperature changes for you, but first it needs to learn about you. Teach Nest well.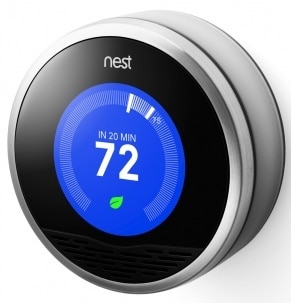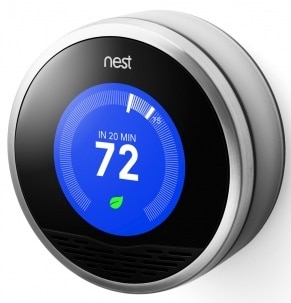 It takes time for Nest to learn. Within a week, Nest will activate the following energy-saving features.
Auto-Schedule. Use Nest like a regular thermostat: turn it up when you're cold, down when you're hot. Every time you change the temperature, Nest remembers what you like.
The Nest Leaf. The Nest Leaf appears when you choose a temperature that saves energy. Every degree counts. Changing the temperature a single degree can cut your energy use by up to 5%.
Auto-Away. Nest sense when you've been out for a couple hours and sets itself to a temperature that'll save energy. You'll choose the Away temperatures Nest uses during set up.
Energy History. Keep track of your energy use in Energy History. You'll see how much you used and what made the biggest impact: your temperature changes, Auto-Away or the weather.
Nest Energy Saving Tips
1. Look for the Leaf.
2. Don't set Nest to extreme temperatures. Cranking it to 90 won't heat your home faster.
3. Turn down the temperature when you go to bed.
4. Turn down the temperature as you leave. Nest uses Auto-Away to turn the temperature down when you're out, but it takes time for Nest to sense that you're gone. Help Nest learn your schedule faster by turning Nest down before you leave.
5. Set Nest to Away manually when you go on vacation. When you're leaving for an extended time, set Nest to Away. Just press Nest when you get back to return to your normal schedule.
If you think you'd like Nest – The Learning Thermostat installed in your house, or just want to know more about it, call us at 256-428-1983 – we'd love to help you!