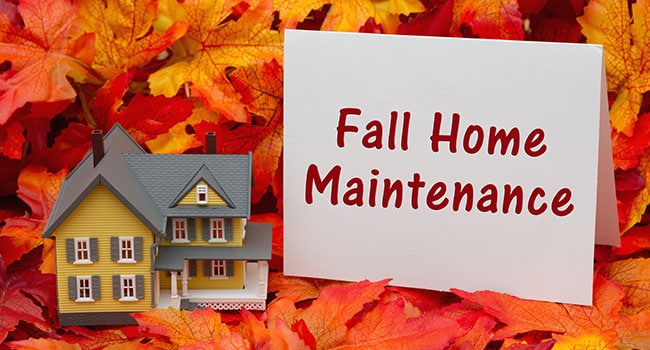 As the weather turns from hot and humid to cool and crisp, and the leaves begin to change, our thoughts turn to football, trick or treating, and Thanksgiving. But before you settle in to watch the game with that turkey sandwich, there's some maintenance you should do to make sure your home and yard are ready for the colder months ahead.
Staying Warm and Safe All Winter Long—
1. Have your HVAC inspected: Before you turn on the heat for the first time in the fall, it's important to have your HVAC unit inspected by a trained technician, especially to check for potential carbon monoxide leaks. This will help to ensure that your heat runs safely and efficiently all winter long.
2. Look up your chimney: If you have a wood-burning fireplace, check the chimney for build-up and make sure the damper is working. Too much build-up can lead to a chimney fire, so hire a licensed chimney sweep to clean it out.
3. Clean dryer vents: The lint in dryer vents becomes particularly flammable during the cooler, drier months. The "musty" smell you think is from your washer might actually be from your dryer! Read more here.
4. Seal up the cracks: Check around your doors and windows for cracks and seal them with caulk to prevent cold air from sneaking in—and that warm air you're paying to heat from leaking out!
5. Check your detectors: Replace the batteries in your smoke alarms and carbon monoxide detectors, and test them to make sure they're still working. This is one of the most important steps you can take to make sure your family stays safe all year long.
Outside Your House—
6. Clean the gutters: Once the leaves have fallen, clean out your gutters to keep them running smoothly for the rest of the year. You can have gutter guards installed to make this job easier in the future.
7. Prevent frozen faucets: Remove outside hoses and put away. If you can shut off the water to your outside faucets from an inside valve, then shut them off and allow all the remaining water to drain out. If you can't shut off the water to the faucets, you can purchase faucet covers at your local home improvement store.
8. Make sure your roof is ready: Check your roof for damaged or curling shingles. A pair of binoculars can help you to get an up-close look while keeping your feet safely on the ground!
9. Remove hazardous branches: Trim back dead tree limbs—or hire a licensed and insured tree service to do it for you—so that they don't become dangerous under the weight of snow or ice.
10. Stow your equipment: Clean and put away your garden tools. Drain the fuel from your lawn mower and other gas-powered tools before storing them for the winter.
Performing these ten tasks will help to protect your home and family all winter long, and they'll ensure you're ready to go when spring comes around again!