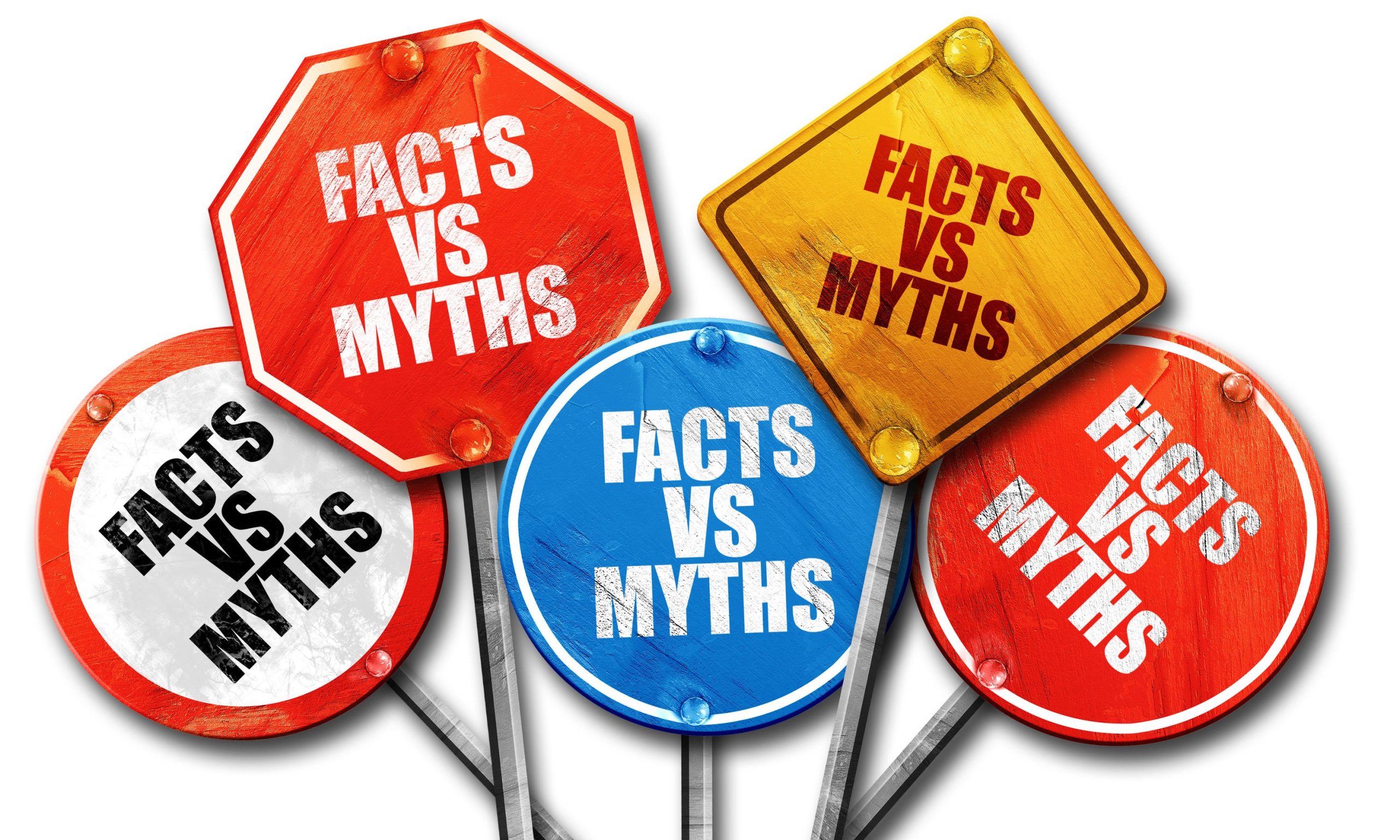 4 Common HVAC Myths Busted!
In the HVAC industry, we hear a lot of misinformation getting passed around as fact. These HVAC myths can lead to inefficiency, decreased comfort, and even equipment breakdowns. Let's take a look at some of the common HVAC myths and the real facts behind them.
Myth #1: Turning your thermostat down further will make your home cool off faster.
This is a big one. A lot of folks think that if they turn their thermostat down to a really low temperature, the house will cool off faster. But that just isn't the case.
Turning down the thermostat to a lower temperature doesn't make the air conditioning run faster or harder. It just makes the system run for a longer time—until it gets to that low temperature, if it ever does.
The average home and air conditioner can manage to maintain a twenty-degree delta (difference between outside temperature and inside temperature). That means if it's 95F outside and you set your thermostat to 68 trying to cool the house down faster, it's never going to get there. Instead your AC will just keep running and running, wasting energy. And your home won't get cool any faster than if you'd set the thermostat to 75F.
Myth #2: Closing the vents in unused rooms is a good way to save energy.
This is another myth that frequently gets passed around as a helpful "tip." And on the surface, it seems like a good idea. Why not redirect that conditioned air into the rooms you're using?
The problem is that when you close vents, you change the air pressure and circulation through your home's HVAC system. A closed vent increases the air pressure in the ducts, which causes more leakage through the duct's seams. Now you're wasting energy because conditioned air is leaking out of the ducts into your attic or crawlspace.
Additionally, increasing the air pressure in the ducts forces your HVAC's blower to work harder to move the air. This also wastes energy and it can lead to early equipment failure.
Your HVAC system, including the ductwork, is designed to be balanced. The amount of air coming in equals the amount of air going out. If you restrict the airflow on either end, the system can't work the way that it was designed to. So leave those vents open, and if you really want to control how much air is going into different parts of your house, look into having a zoning system installed.
Myth #3: A bigger HVAC system is always better.
In the heat of an Alabama summer, it may seem logical that you want the largest capacity air conditioner you can afford. However, the truth is that an oversized HVAC system can cause serious problems.
The main issue with an oversized air conditioner is that it cools the house down too quickly. That may not seem like a disadvantage, but it really is. When an air conditioner runs for only 10 minutes at a time and frequently turns on and off, we call this short-cycling.
Short-cycling causes three main problems. First, air conditioners use the most energy when they first turn on. So a short-cycling AC runs less efficiently than one with longer run-times. Second, turning on and off frequently wears down the air conditioner faster. Short-cycling can actually shorten the lifespan of your system and lead to breakdowns.
Finally, it's important to know that air conditioners actually have two jobs. They cool the air, but they also dehumidify (and we know how important dehumidification is here in the Tennessee Valley!). When an AC short-cycles, it doesn't dehumidify as effectively. This can leave your inside air overly humid and sticky, reducing comfort and leading to even worse issues like mold growth.
When it comes to HVAC capacities, follow the Goldilocks rule. Don't get a system that's too big or too small. Choose one that's just right.
Myth #4: Setting back the thermostat when you're sleeping or away from home doesn't save energy.
Setting back the thermostat means setting it to a higher temperature in summer or a lower temperature in winter. For instance, that might mean setting the thermostat to 78F during the summer when you're away at work.
Some folks claim that this isn't a good idea because your air conditioner will have to work harder to bring the temperature back down when you get home in the evening. However, that's a myth.
The amount of energy saved by turning up your thermostat for several hours during the day—especially during the heat of the day—is significantly more than the energy that will be needed to bring your home's temperature back down in the evening.
If you're concerned about your home being uncomfortably warm when you get home from work, invest in a programmable thermostat and have it turn the temperature back down about an hour before your normal arrival time. That way you can save energy all day and still come home to a comfortably cool house.
One caveat: Don't turn your air conditioner off completely. Remember that the AC's job includes dehumidification. If you leave your air conditioner off all day, your home's air may become overly humid, leading to mold growth and other problems.